Geiko and Maiko Party – Class Pine
In this program, you will have the opportunity to experience a true visit to a private teahouse called ochaya which is definitely not open to the public. A private party of this nature at such tea houses is hard to come by, even for Kyoto locals no matter how rich they are. We were able to make it happen through mobilizing our local network. The dinner will be accompanied by both geiko-san and maiko-san, one being in charge of dancing while the other is in charge of playing the shamisen, a guitar-like three stringed musical instrument. You will also have a chance to learn what the historic party's substance really was in the samurai age and experience it. However, please do be careful not to drink too much, this being also a part of the elegant manner of traditional Kyoto.
Itinerary
16:45-17:00
Pick up at your hotel (within the central part of Kyoto City), and transfer to the geiko and maiko district by taxi
17:00-18:00
Guided tour in the geisha district
18:00-20:00
Dinner at a tea house with geiko and maiko accompaniment
20:00-20:15
Return to your hotel (within the central part of Kyoto City) by taxi
Remarks
Taxi fare is covered only within the central part of the city, extra payment required for outskirts of the city.
Program can be finished in the geisha district, with the understanding no refund of taxi fee is available.
| | |
| --- | --- |
| No. of guest | Price per guest |
| 2 | ¥150,000 |
| 3-4 | ¥110,000 |
| 5-6 | ¥78,000 |
| 7-8 | ¥65,000 |
| 9-10 | ¥55,000 |
| Tour specs | Private tea house, Full Kaiseki dinner course, Beer and Sake, Both Geiko and Maiko, Live music, English speaking guide, Hotel pick up by taxi with guide |
| Remarks | Above usual amount of drinking or some special sorts of alcohol may require extra payment. |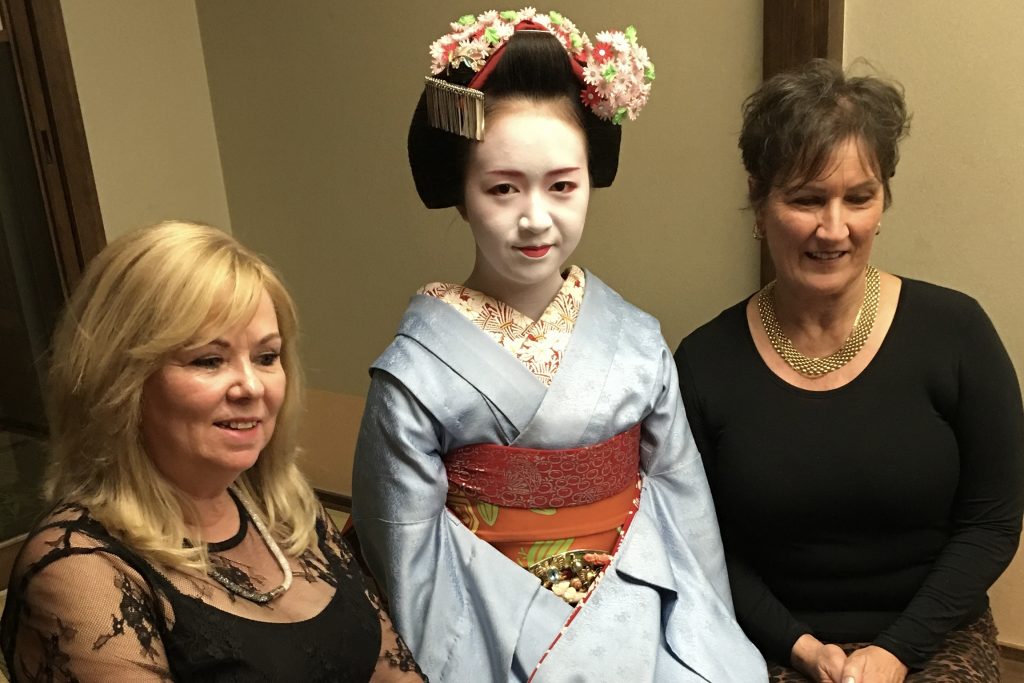 Half Kaiseki Dinner course with one Maiko at Japanese restaurant with partition: The minimum, yet still truly private and authentic, dinner arrangemen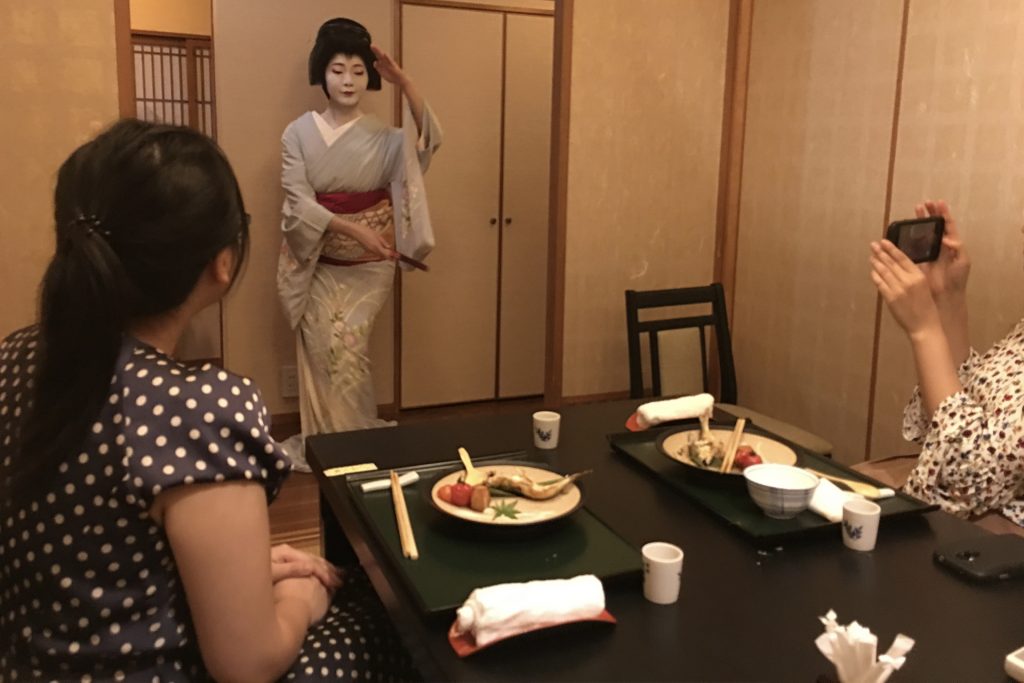 Full Kaiseki Dinner course with one Maiko at Japanese restaurant's private room: Private and authentic, dinner arrangement with a privately arranged m