Evening Street Food Hopping in downtown Osaka
Osaka, the city of merchants, is the place with the nickname "the kitchen of Japan" since it has long been the center of the rice exchange market and was the logistic hub during the Samurai age. Such being the case, the atmosphere remains unchanged even today after around 300 years. In the evening, neon billboards light up every corner of the city. Lured by the smell of our comfort food, office workers, young men and women appear, frolicking here and there. You will have a chance to experience this local way of life as you hop about the street food stands and shops.
Highlights
During the 3-hour tour, you will have a choice of some of the following foods.
Takoyaki:
The King of Osaka comfort food is the grilled dumplings made from soup stock flour with a slice of octopus for each piece. Osaka style takoyaki was perfected when the special thick sauce developed after the war was applied. Today, you will often find takoyaki stands about the city. It is even said that the local people have their own takoyaki grill in their individual homes. During the tour, you will visit places which show the origin of such takoyaki tradition.
Okonomiyaki:
This pizza-like food is prepared following a similar method as that used for takoyaki. However the ingredients have a much wider variety of items including seafood, pork, and cheese, which are mixed with chopped cabbage, and completed with a topping of minced dried laver and bonito. Some say okonomiyaki has a more than 400-year history, and Japanese people argue about the origin of the food between Hiroshima and Osaka. During the tour, you will enjoy Osakan style okonomiyaki - which we believe to be the true original.
Kushikatsu:
In Osaka, you will often find unique street food stands where people have to eat even while standing. Kushikatsu is often found at such style of eating stands, and you will be given so narrow a space that you'll have to share the sauce pans with the neighboring guests. For the sake of hygiene, double dipping in the sauce is strictly prohibited. In fact, these days, "no double-dipping" has almost become the nickname of Osakan style kushikatsu.
Gyoza:
These grilled dumplings are originally from China, yet their gyoza comes in the form of a soup unlike the Japanese styled one which is grilled on an iron plate and eaten with a special sauce and hot sesame oil. The Chinese themselves make a long line in front of gyoza stands here every day. A good gyoza cook spreads a small amount of water to make the surface a little crispy and tastier, which is the perfect combination with draft beer.
Izakaya:
After the war, liquor shops started securing the corner of the shop for their customers to enjoy drinking with some snacks. So the word izakaya literally means the "drink liquor and stay shop" as it was originally known. Though such early type of bottle shop can be found even today, izakaya later developed into the particular type of casual restaurant as it is today with a great variety of food and snacks. In our tour, you will have a chance to visit an izakaya with a huge grill where they prepare fish and other hot dishes right in front of you. When they complete the food, they cleverly use the long paddle to deliver it to you.
Ramen:
The word "Chinese noodle" might be a mistranslation for ramen, though it was originally introduced in Chinatowns near ports such as Yokohama and Kobe. It has become an indispensable comfort food in Japan, and after hopping around several bars and shops, people complete the day at ramen stands as if enjoying a kind of dessert, you might say. Our tour also finishes at such ramen stands in order to truly experience how our casual eating habits are still a reminder of old Japan.
Beer:
Japanese people love beer at all events, and ordering beer for a starter a few seconds after entering food stands and shops has become kind of common sense here. The history of our beer started more than 300 years ago, and now we have five major beer companies such as Kirin, Asahi, Sapporo, Suntory and Orion. Above all, Asahi Super Dry is said to trace back to that produced by the Osaka Beer Brewery. Why don't you order several glasses of beer during the tour in commemoration of such an historical background!?
After the Street Food Hopping tour…fully enjoy the night life in Osaka!
Unique billboards and shop signs are also attractions of downtown Osaka, such as huge moving crabs, puffer fish, big sushi chef's hands on the wall, etc. Many food stands and shops stay open until late at night and some of them are open for 24 hours.
Our tour ends in such a city that never sleeps, and you can continuously enjoy entertainment in your chosen style at your heart's content. Be careful, however! Osaka has an old saying: "gotta eat till we die".
Itinerary – Northwest-bound course
18:00
Pick up at your hotel in Osaka
18:00-18:30
Transfer to downtown Osaka (the Dohtonbori area)
18:30-21:00
Street food hopping tour Tour ends in the district
Tour specs
English speaking guide, Public transportation, Food and drinks
Remarks
Optional Kyoto pick up (17:30 at Hotel Granvia Kyoto) can be requested.
| | |
| --- | --- |
| No. of guest | Price per guest |
| 2-4 | ¥16,200 |
| 5-8 | ¥12,150 |
| Remarks | Optional Kyoto pick up requires additional 3,000 yen / person. |
Menu
Indispensable foods
Takoyaki Gyoza Ramen
Selective food(one from three choices)
Okonomiyaki Kushikatsu Izakaya food item
Beer and soft drinks included
For excessive amounts of beer or soft drinks, separate payment may be required.
For excessive amounts of beer or soft drinks, separate payment may be required.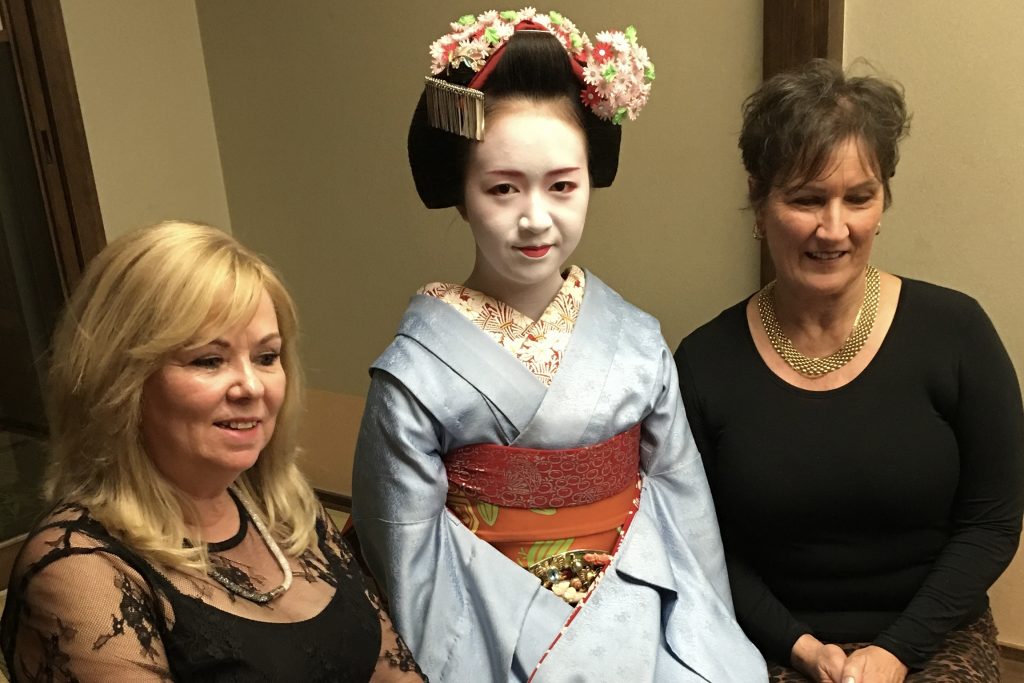 Half Kaiseki Dinner course with one Maiko at Japanese restaurant with partition: The minimum, yet still truly private and authentic, dinner arrangemen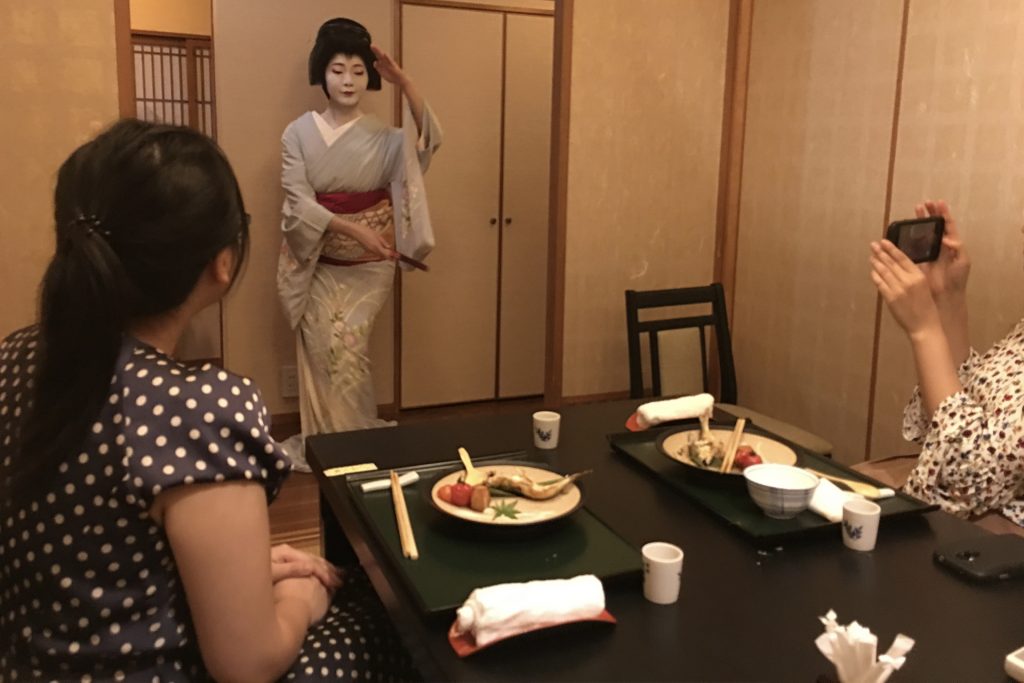 Full Kaiseki Dinner course with one Maiko at Japanese restaurant's private room: Private and authentic, dinner arrangement with a privately arranged m